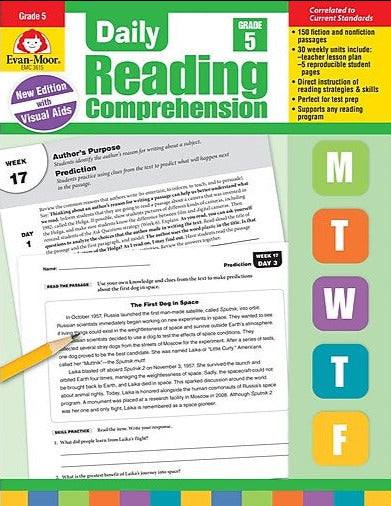 Evan-Moor Daily Reading Comprehension, Grade 5 - Fiction and Nonfiction
---
The Evan-Moor Daily Reading Comprehension, Grade 5 Resource Book gives fifth graders direct instruction in important reading strategies, all aimed at improving reading skills. Our reading workbook fits well in the traditional classroom or for homeschooling, as it keeps gr. 5 children engaged with 150 original fiction and nonfiction reading passages. Some of the skills grade five students will learn include how to recognize the theme, characters, setting and main ideas. Our activities will help even reluctant readers gain the confidence they need to learn to enjoy reading, which can help them in all areas of their schooling.
Increases Reading Enjoyment
- Fifth grade students using our workbook will have more success while reading, which leads to a greater enjoyment of this activity
30 Weeks of Instruction
- With 208 pages of activities, homeschool parents and classroom teachers can use our resource throughout the entire school year
Strengthening Comprehension
- The response questions in the activity workbook will help fifth graders recall what they've read more clearly
150 Reading Passages
- Our book offers 150 fiction and nonfiction passages, which will engage students in reading, thinking about, and responding to a variety of texts
Correlates to Current Standards
- You can count on the materials we've developed to match all current educational standards
Visual Aid Comprehension Pages
- These reproducible pages provide students with a visual tool to help them apply reading skills and strategies to daily passages.